third annual golf outing may 24th....another smashing success! superb fundraising effort in great river: great weather / great food / great golfing / great people!
6-WEEKS OF SUMMER CAMP OVER now...AND IT WAS ANOTHER GREAT ONE!
6-WEEKS OF SUMMER CAMP OVER now...AND IT WAS ANOTHER GREAT ONE!
The summer camp program of the Ryan Outreach Center has been around almost as long as its director, Naycha Florival. Naycha was one of the Outreach's original campers when she was a young girl, a few decades ago. (See Naycha's bio, here.) It was always a 5-week camp, but that's changed now. Thanks to the ongoing efforts and contributions of many staffers and fundraisers, the new format is a 6-week camp, as of last summer, in 2016. Over 100 boys and girls come to the Ryan Center early in the morning on weekdays during the 6 weeks....and instead of passing a long summer battling boredom with few friends and limited opportunities for growth, their lives are enriched in countless ways. Ways that simply would not be possible without the funding provided by many generous donors. Throughout the camp season, the children make new friends, go on field trips, learn about their environment and nature (including local farming and nutrition), go swimming and skating, play ball (including a basketball clinic, as pictured below) do some hiking, and fishing, and learn about art and other creative pursuits....and much more! Just take a look a some shots here from the summer of 2017!
SUMMER SOCCER ACTION > ANOTHER SUCCESS STORY FOR THE RYAN OUTREACH!
JOE GIBBONS' FINAL UPDATE ON THE PAL SOCCER PARTNERSHIP PROGRAM // JULY 24th
A few weeks ago, with the threat of significant rain and thunder storms, we decided to set up despite the weather. Just in case the kids showed up. And we felt it was important to show the neighborhood we are committed. We started early as the older kids came to play--but by the time the rain arrived , we had over 40 children, along with many of their parents.
Officers Elizabeth, Torres, and Christine work the registration tables, making sure each child has a shirt and sneakers. They interact with the children and parents while walking the field, offering upbeat chatter and helping with clean up. They know how to make those social connections and earn respect.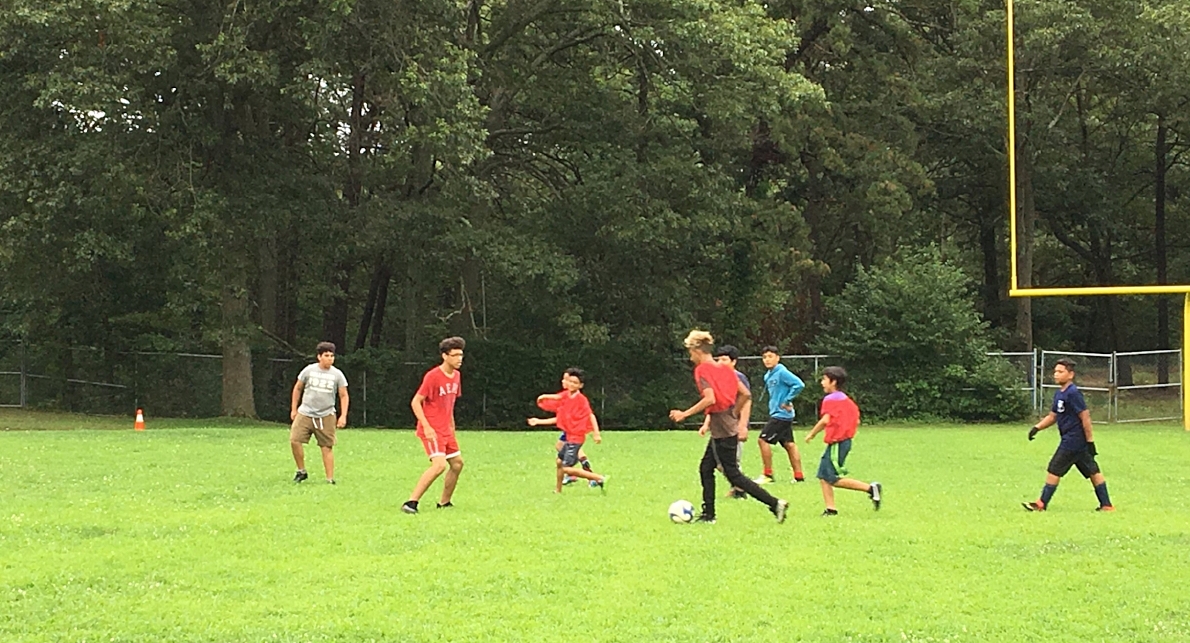 Special thanks to: Maui Martinez who closes his Jewelry store (Snug Harbor Jewelry in Amityville) early to coach, Bobby Patch SJB Varsity Basketball coach, Town of Babylon Deputy Supervisor, Councilman Tony Martinez for making sure the field and bathrooms are well maintained every week, Mario and his daughter, Brian Foley and Rafaelina Santos Collado who all come the coach. Tom Fiorini (Outreach Board Member) comes down and interacts with the older soccer players, and I thank him as well.
Earlier in July, the Officers hosted a BBQ with a DJ; each child's name was announced and received a medal. Picture attached. Special thanks to Masterchef Scott Broderick who brought his commercial grill and made hamburgers and hot dogs.
The Officers asked if we could support the club for a few more weeks through July and we agreed. Last week we had over 65 players. (Later this day, after Joe sent out his email, 40+ young players showed up and enjoyed a full evening of soccer in the unusually cool evening air.)
This three month, First Precinct PAL Wyandanch Soccer Club is a very worthwhile initiative and I am very happy to be involved in managing the program in the name of the Ryan Outreach!
GOLF TOURNEY II. A HUGE SUCCESS! VIEW HIGHLIGHTS HERE of MAY 24TH EVENT....a thousand thanks to our generous sponsors and all tourney golfers!